Discover your career with Redstone Agency!
Welcome to our Careers Site!
About Redstone Agency
We're a full service, industry-leading association and event management agency helping non-profit associations and corporate clients all over the world. We provide our clients with professional services in board of director support, membership management, financial management, marketing and communications, digital, hybrid, and in-person event management, and so much more!
Our mission is to drive growth in our clients' organizations, make a positive impact in their communities, and make the volunteer experience enjoyable for everyone we work with. Customer service is our passion.

Our Culture
We believe that a culture that celebrates our team's unique characteristics creates a better work environment and enables us to deliver outstanding services to our clients. We value building a team with a variety of backgrounds, skills, views, and embrace the characteristics that makes us who we are. We strive to create a workplace that reflects the communities we serve and where everyone feels empowered to bring their full, authentic selves to work each day.
Our "Core Four"
People

Being appreciative and respectful of all the people we work with makes for better relationships and better results.

Trust

Establishing and maintaining trust between our team members, our clients and our partners, allows us to work together to achieve big things.

Impact

We believe in maximizing efficiencies by embracing digital technology that will have the biggest impact on our team and our clients.

Extra Mile

Going the extra mile means we always surpass expectations - anticipating needs in advance, rejecting what is 'simply acceptable' and striving for 'the best possible.'
Why Choose Us
Benefits

We provide Health, Drug, Dental Insurance, Vision Care and Employer Paid Group Life Insurance.

Hybrid Workplace

Our office is located in midtown Toronto, with a flexible approach to hybrid and remote work, depending on the requirements of your role.

Flexible Work Hours

You work when you are most productive and we understand the need to have a work-life blend, because we have that need too.

Industry Opportunities

Travel opportunities to work at our events alongside our talented event staff and endless opportunities to attend in-person and virtual conferences, workshops, industry accreditation and certifications for personal and professional growth through the company.

Paid Time Off

We offer company paid Vacation Days, Sick Days, Personal Days, Wellness Days, Summer Hours, and December Holiday Break.

Awards

Recognition is part of our culture. We show appreciation to our team daily through shoutouts and kudos, and more formally by peer-nominated Annual Foundation Awards and a company paid 5-year Milestone Trip anywhere in the world.

Meaningful Work

Become fulfilled in work that matters by supporting the growth and business needs of non-profit organizations.

Professional Development

We value career growth by investing in your professional development through internal advancements to learn and grow alongside company paid courses, certifications, and designations.

Team Initiatives

We work hard and like to have fun! Some of these ways are through team lunches (in and out of the office), book club, step challenges, happy hours, game nights, karaoke, new hire buddy program, holiday and summer parties, committee and charity participation, and more!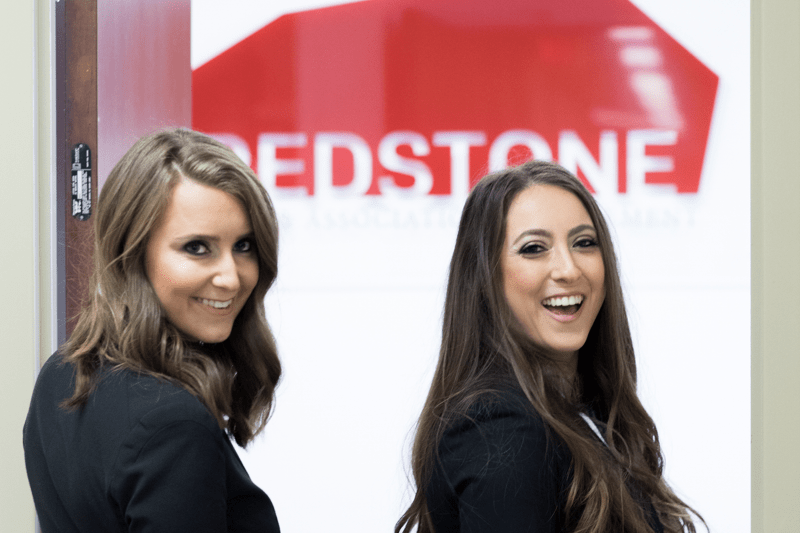 Founded
Our founders, Bailey and Carly, co-founded Redstone Agency at Carly's kitchen table in Toronto, Ontario with our clients and people at the heart of their business.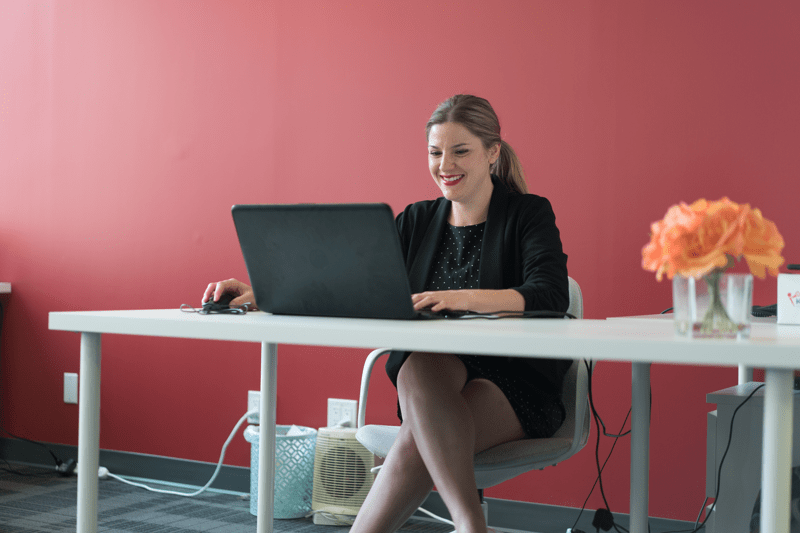 Our First Office
We moved in to our very first office in 2016 and were very proud to call this place our own.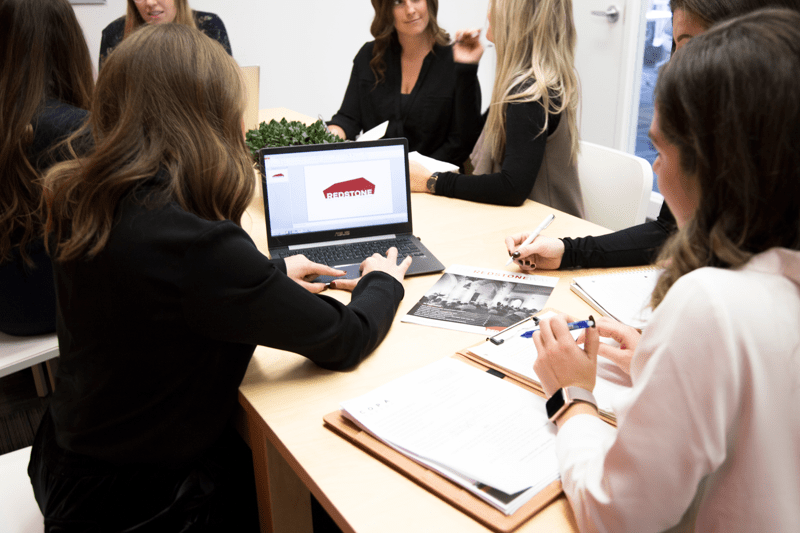 Growth
We more than doubled in size and needed a larger office space to fit the growing #REDSQUAD. We expanded our services to support the growth of our client base.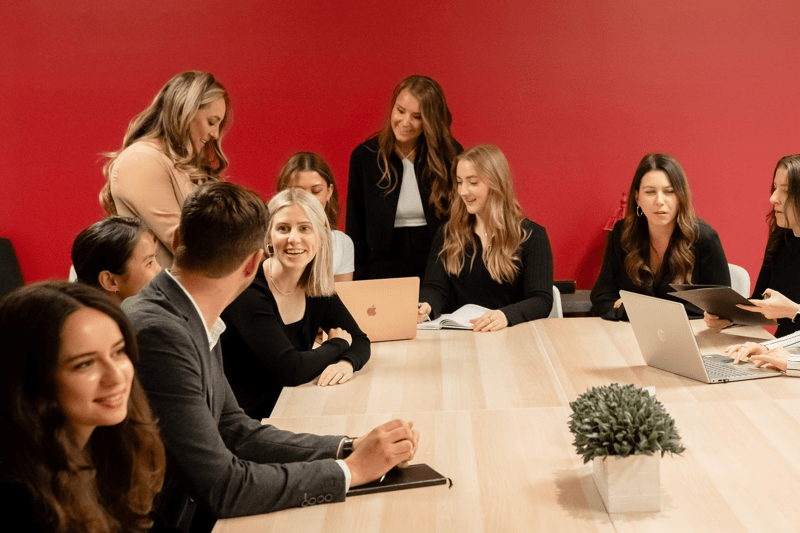 Making Our Mark
We are proud to have become the largest AMC in Canada. We couldn't have done this without our amazing team and clients, and we are not slowing down anytime soon!
What's our Secret Sauce?
Mostly just ketchup... cause it's red, right? In all seriousness, the company culture at Redstone is the best I have experienced. It did not take long to be warmly welcomed into the #REDSQUAD. Truly a work hard play hard attitude, the team will stop at nothing to make sure they deliver a great product and that everyone feels included.

Jeffrey Newland

Senior Marketing Coordinator

Redstone is a company where only amazing people work at! I feel surrounded by collaborative, hardworking, and fun mates all the time. Teams and leaders contribute to a culture that is fair, understanding, and collaborative.

Melody Done

Accountant

The level of flexibility and understanding I get as a working mom is unmatched! We truly take a team approach and the motto of 'caring personally' is whole heartedly practiced within our work environment. Our suggestions, ideas and concerns are always heard, and actions are taken.

Samantha Rosen

Event Manager

The work is challenging and forces you to really think strategically. That, combined with a team of the most supportive people and a culture that is second to none make Redstone a very special place to work.

Bailey Roth

President

The company culture is unmatched - everyone at Redstone is supportive, knowledgeable and honestly, fun to collaborate with. Management truly understands the need for work-life balance and prioritizes the team's mental health.

Amy Mosquera

Account Manager

Our employees. Without them, Redstone wouldn't be Redstone. Our team is what makes the company a great place to work! I am extremely proud to be part of the #REDSQUAD.

Olivia Godas

Account Coordinator

The PEOPLE! Everyone is really friendly, approachable and always willing to assist. The growth possibilities are endless! It is also amazing working with and for the Redstone leadership who are very supportive and who care personally.

Rachel King

Managing Director, Accounts Team

Redstone has an incredible and unique company culture. There is an energy at Redstone; everyone is passionate and eager to learn and help out which makes for a great working atmosphere. Redstone focuses on being innovative and proactive with current trends, whether it be leveraging technology or being more conscious of mental health, is something a really appreciate about this company.

Jamie White

Manager, Financial Services
Already working at Redstone Agency?
Let's recruit together and find your next colleague.